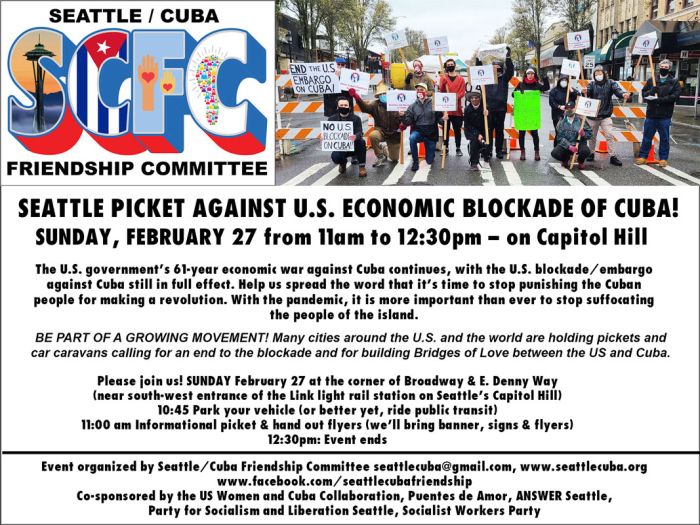 SUNDAY, FEBRUARY 27 from 11am to 12:30pm – on Capitol Hill
The U.S. government's 60-year economic war against Cuba continues, with the U.S. blockade/embargo against Cuba still in full effect. Help us spread the word that it's time to stop punishing the Cuban people for making a revolution. With the pandemic, it is more important than ever to stop suffocating the people of the island.
On Sunday, February 27, 2022 the Seattle Cuba Friendship Committee will join with similar actions around the country.
BE PART OF A GROWING MOVEMENT! Many cities around the U.S. and the world are holding pickets and car caravans calling for an end to the blockade and for building Bridges of Love between the US and Cuba.
Please join us! SUNDAY February 27 at the corner of Broadway & E. Denny Way (near south-west entrance of the Link light rail station on Seattle's Capitol Hill)
10:45am Park your vehicle (or better yet, ride public transit)
11:00am Informational picket & hand out flyers (we'll bring banner, signs & flyers)
12:30pm Event ends
* We will be wearing masks and socially distancing. Hope to see you there! *
For more information contact Seattle/Cuba Friendship Committee:
E-mail:This email address is being protected from spambots. You need JavaScript enabled to view it.
Website:www.seattlecuba.org
Facebook:www.facebook.com/seattlecubafriendship/
Co-sponsored by the US Women and Cuba Collaboration, ANSWER Seattle, Party for Socialism and Liberation Seattle, Socialist Workers Party