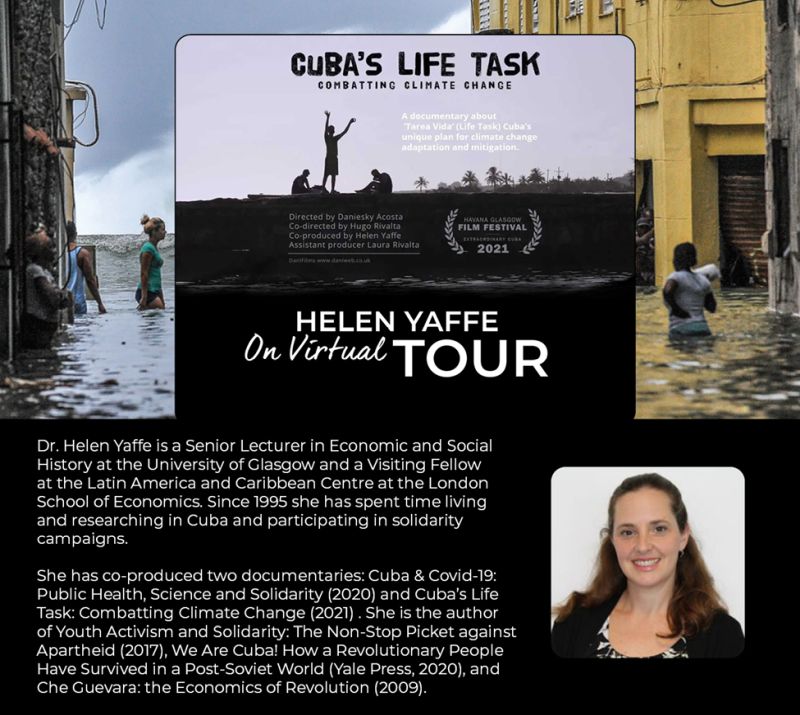 The Seattle/Cuba Friendship Committee invites you to join us at either (or both) of two exciting virtual events in early April with Helen Yaffe:
Dr. Helen Yaffe is a Senior Lecturer in Economic and Social History at the University of Glasgow and a Visiting Fellow at the Latin America and Caribbean Centre of the London School of Economics (LSE). Her current teaching focuses on Cuban and Latin American development. Since 1995 she has spent time living and researching in Cuba and participating in solidarity campaigns. She has co-produced two documentaries: Cuba & Covid-19: Public Health, Science and Solidarity (2020) and Cuba's Life Task: Combatting Climate Change (2021), which premiered in Glasgow in November during COP26, the international climate change conference in that city. Dr. Yaffe is a very enthusiastic, knowledgeable and compelling speaker on various aspects of Cuba, and we are confident that you will find her talk to be enjoyable and informative.
She was scheduled to do a live speaking tour in the United States during late March and early April, however she was denied a visa waiver by the U.S. State Department. So instead of the live tour, she will be appearing at a series of virtual events organized by Cuba solidarity committees across the United States and Canada. We've been invited to join two of these events and we're passing the invitation along to you. We encourage you to pre-register for whichever event you wish to attend.
On April 8 at 5pm, the Vancouver Communities in Solidarity with Cuba (British Columbia, Canada) will host a webinar, "Tarea Vida: Cuba's Life Task featuring Helen Yaffe." , an online film showing + discussion featuring the director of the film, Helen Yaffe.
The event will also feature: Kelly White, a Coast Salish Elder and long-time social justice and Indigenous rights organizer and activist, broadcaster and filmmaker with Stories from the Salish Seas, and Alison Bodine, central organizer with Climate Convergence Metro Vancouver, board member of the West Coast Climate Action Network.
April 8 Registration link
On April 16 at noon, the Bay Area Cuba Saving Lives Committee (San Francisco, CA) will hold a hybrid (in-person & virtual) event. The focus of the event is on Cuba's efforts to combat climate/environment problems as well as the U.S. blockade. We plan to show parts of Helen's film, "Cuba's Life Task", and have Helen (via Zoom) speak and engage in dialogue with those who attend in person or via Zoom."
April 16 Registration link
Hope to see you soon online!