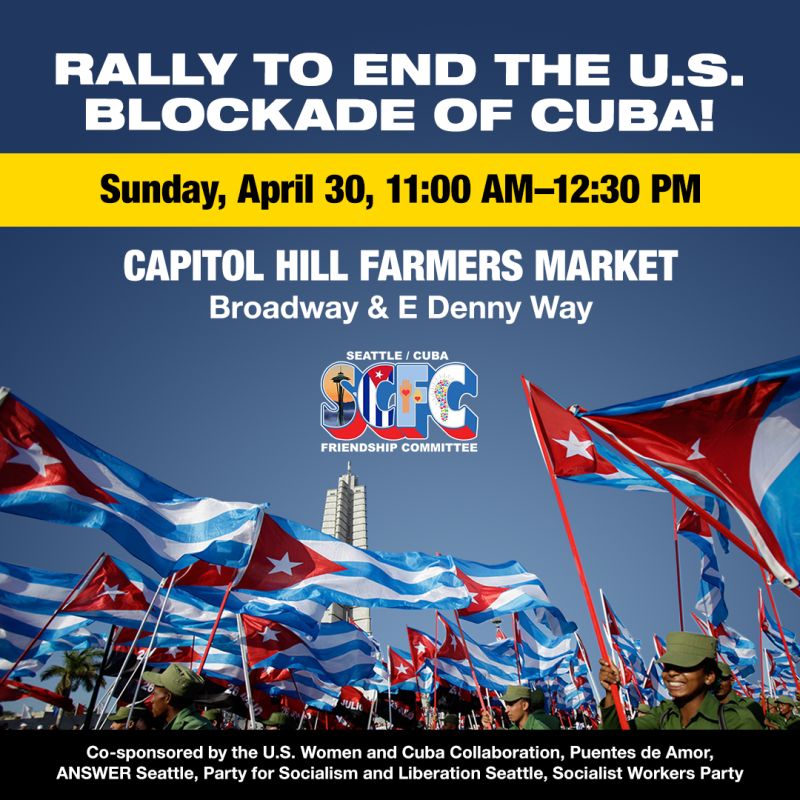 Please join us Sunday, April 30 for a Cuba solidarity rally at the Capitol Hill Farmer's Market.
* The U.S. government has maintained a cruel and illegal blockade against Cuba for 61 years.
* The Seattle/Cuba Friendship Committee has been working to end that blockade for 30 years.
* We're not there yet, but with your help we can do it.
* Find out about our upcoming Film Showing on May 17 at Northwest Film Forum.
* Find out how to send medical aid to Cuba on the upcoming IFCO/Pastors for peace Caravan to Cuba.
* Come Join us!
LOCATION
Meet at the Capitol Hill Farmers Market between Broadway & 10th Ave E, aka E Barbara Bailey Way.
SCHEDULE
10:45 am Park nearby, although parking is tight on Capitol Hill. Better yet, ride public transit: there is a Link Light rail station very near the market.
11:00 am Informational picket & hand out flyers at Farmers Market (we'll bring banner, signs & flyers).
12:30: Event ends
Hope to see you there!
For more information contact Seattle/Cuba Friendship Committee:
E-mail:This email address is being protected from spambots. You need JavaScript enabled to view it.
Website:www.seattlecuba.org
Facebook:www.facebook.com/seattlecubafriendship/
Co-sponsored by the US Women and Cuba Collaboration, ANSWER Seattle, Party for Socialism and Liberation Seattle, Seattle Anti-War Coalition, Socialist Workers Party, and Veterans for Peace 92.