June-July 1998: Warner family medical tour of Cuba
In June 1998, Seattle/Cuba Friendship Committee Secretary Tom Warner, his wife Judy Zeh, and two other family members made a medical tour of Cuba. Their tour lasted from June 23 to July 2, and included visits to hopitals, clinics, a medical school and an AIDS sanitarium. Here's a page from Tom's journal, the day they visited the Hospital Hermanos Ameijeiras in downtown Havana: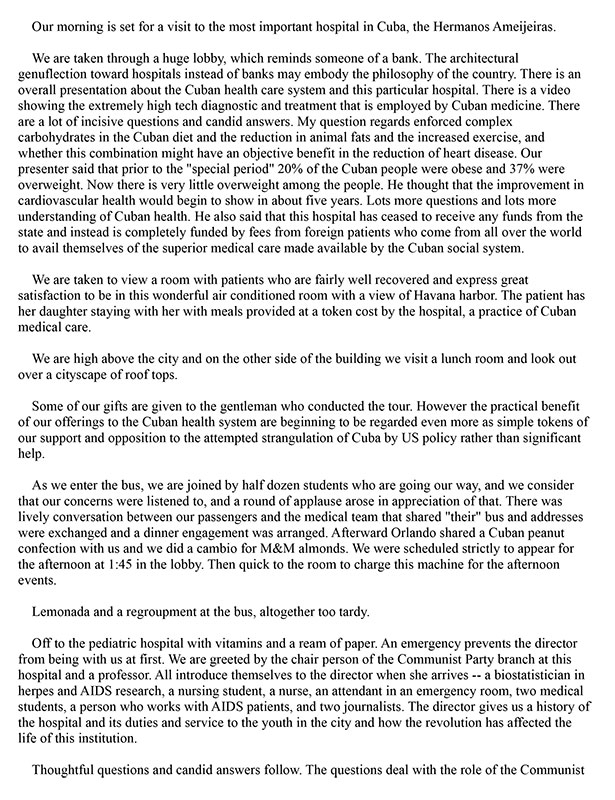 July 1998: IFCO/Pastors for Peace 8th Friendshipment Caravan to Cuba
This Friendshipment Caravan was dedicated to the children and elders of Cuba. It was nicknamed the "Bookmobile Caravan" as the intention was to send at least bookmobiles to serve as mobile libraries in Cuba. Ultimately the Caravan sent three bookmobiles, two ambulances, and five school buses.
The Seattle/Cuba Friendship Committee enthusiastically participated in the caravan project.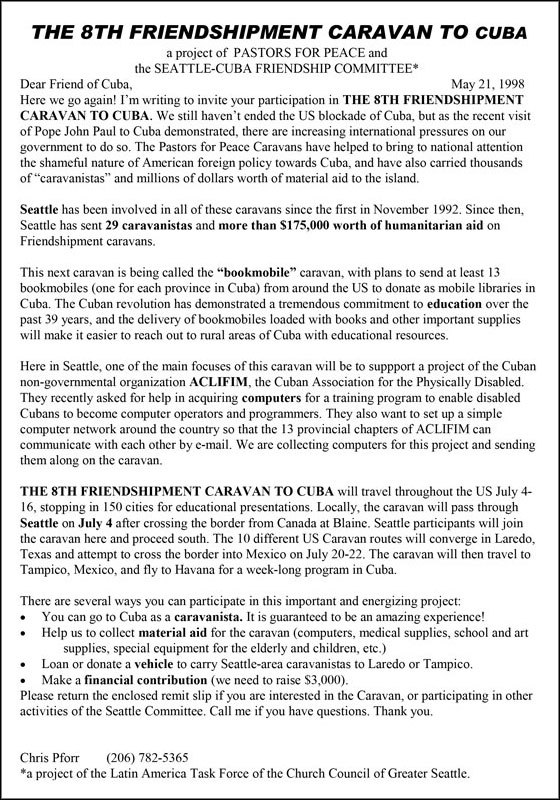 July 4, 1998: Border Crossing Event
On July 4, our committee co-sponsored (with our Vancouver, B.C. compatriots) a border-crossing event at the Blaine Peace Arch Park to welcome Canadian Caravan participants into the Unites States. This was a festive event and also served to publicize the Friendshipment Caravan for travelers passing through the border crossing that day.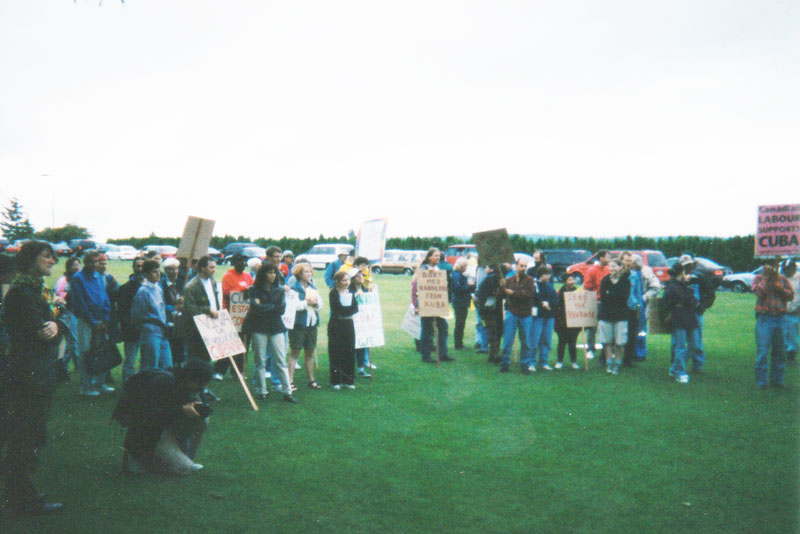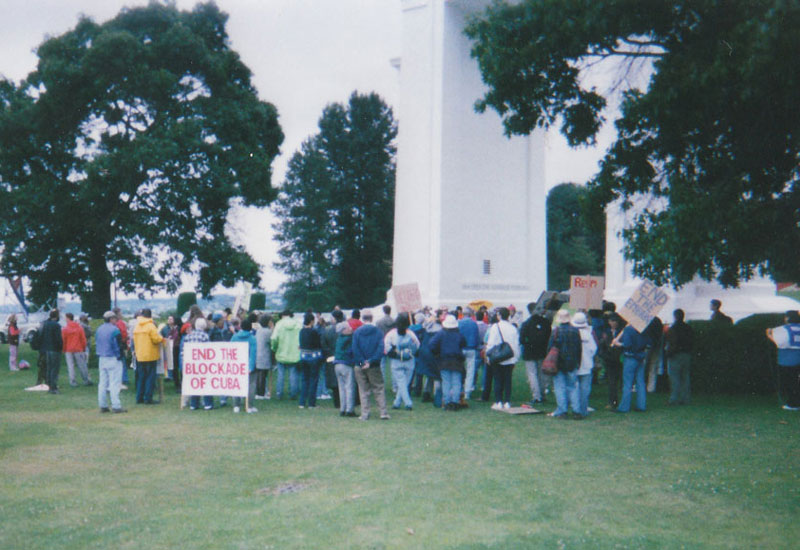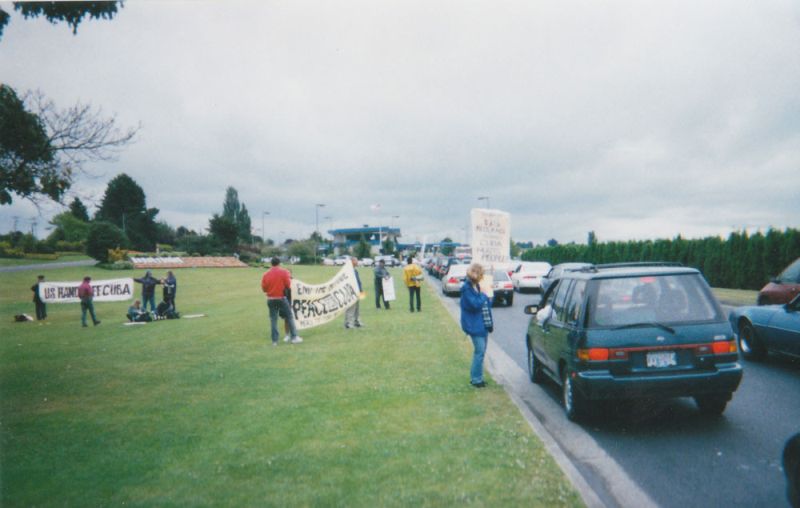 After the successful border crossing event, American and Canadian Friendshipment Caravanistas spent one night in Seattle and then left the next morning for the long drive to the US/Mexican border in Texas, enroute to Cuba with all the donated supplies.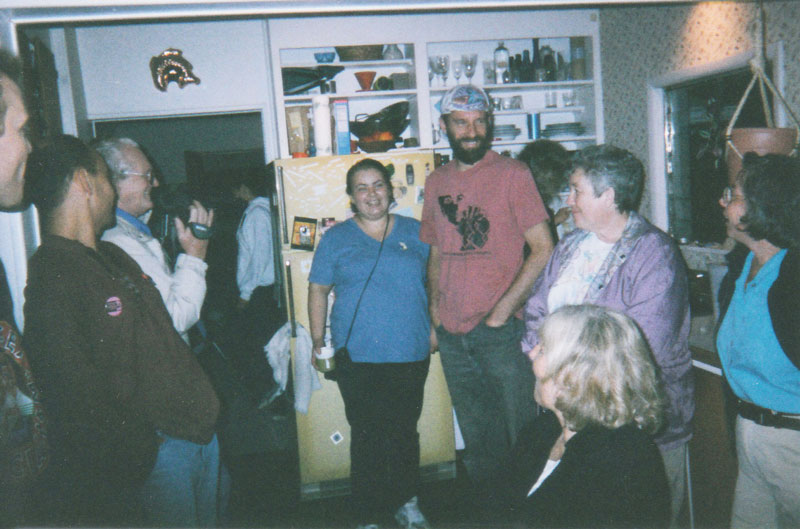 The Friendshipment Caravan arrived safely in Cuba at the end of July, 1998, and returned to the United States in early August.
1998: Computers for Cuba
Seattle committee member Chris Pforr began a project to solicit donations of computers and send them to Cuba.
June 1998: We sent 28 desktop computers and monitors to ACLIFIM, the Cuban national organization for the disabled (Associacion Cubana de Limitados Físico-Motores), on the Pastors for Peace 8th Friendshipment Caravan to Cuba. ACLIFIM will use the computers in two ways:
1. Computer training program for members to prepare disabled Cubans to work as computer operators and programmers.
2. Build a computer network between ACLIFIM chapters in all 13 provinces of Cuba to allow e-mail communication and document sharing.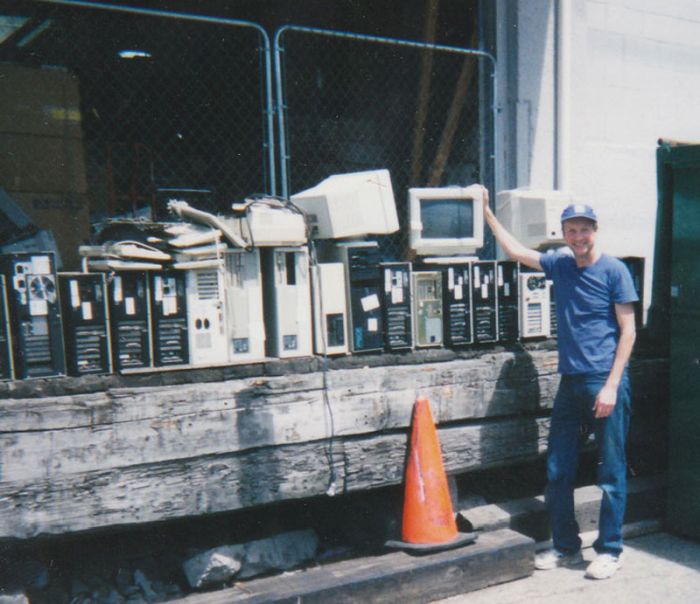 October 1998: We rented a truck and delivered 59 desktop computers & monitors from Seattle to the California INFOMED project.
INFOMED is a project of the Cuban Ministry of Public Health (MINSAP) to connect health information centers and medical libraries in Cuba. The California INFOMED project has been providing computers and network components in support of the Cuban INFOMED project.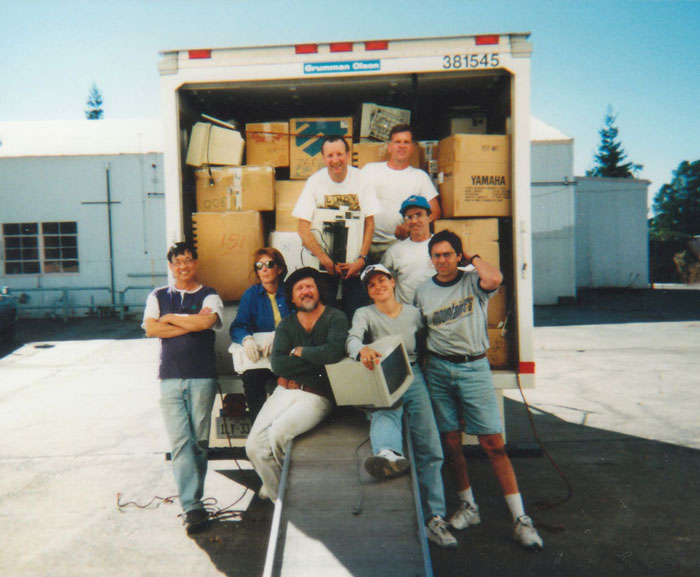 By the end of the Seattle Computers for Cuba project in 2000, we sent 448 computers to Cuba.
For more information contact Seattle/Cuba Friendship Committee: This email address is being protected from spambots. You need JavaScript enabled to view it.