January 3 to February 10, 2012: Antonio Guerrero art exhibit
"From my altitude," a traveling exhibit of paintings by Antonio Guerrero, one of the imprisoned Cuban Five heroes, opened at M. Rosetta Hunter Gallery at the Seattle Central Community College. The exhibit was co-sponsored by the student-funded gallery and American Federation of Teachers Local 1789, which represents the community college faculty. To celebrate this opening and reach out to the community, a broad array of union, community and Cuba solidarity leaders spoke at the well-attended reception.
As part of our ongoing advocacy on behalf of the unjustly imprisoned Cuban 5, the Seattle/Cuba Friendship Committee publicized the exhibit and Secretary Judy Zeh spoke at the opening reception on January 12.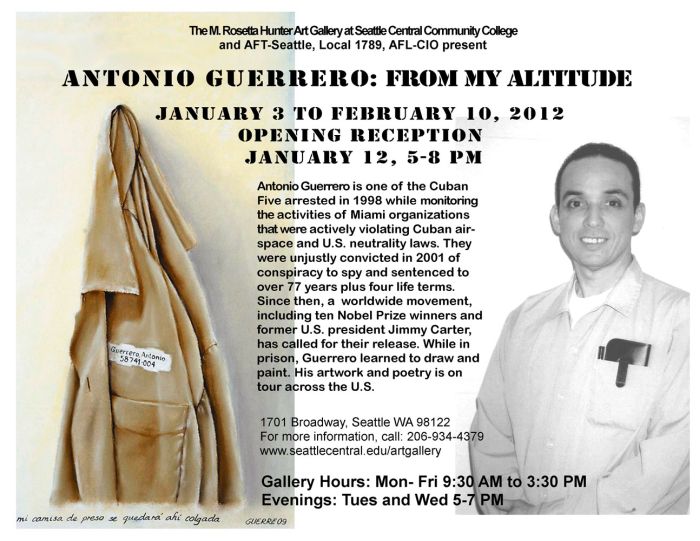 April 25, 2012 IFCO/Pastors for Peace 23nd Friendshipment Caravan to Cuba Announcement
The Seattle/Cuba Friendship Committee was the Caravan's local sponsor.
IFCO/Pastors for Peace has announced the 23rd Friendshipment Caravan to Cuba. This caravan celebrates the 20th anniversary of the first Friendshipment.
In July 2012 the caravan will travel in school buses, trucks and cars along 12 different routes, visiting 130 US and Canadian cities. At every stop we will educate people about the blockade while collecting construction supplies and tools, medical supplies and equipment, educational and cultural supplies, to be donated to our sisters and brothers in Cuba. You can join us as we pass through your community, or you can join us when we reach the border in McAllen, TX on July 15th.
From Texas we will travel to Cuba via Mexico, without asking for or accepting a US government license, as a disciplined act of civil disobedience against the blockade and travel ban, and as ambassadors for a 'people-to-people' foreign policy based in mutual respect. When we return to the US, we will proudly declare our travel to Cuba and our opposition to the immoral blockade.
Please join us!
CONTACT INFORMATION
Seattle-Cuba Friendship Committee (Seattle Area coordination)
c/o Secretary Judy Zeh, Tel. xxx-xxx-xxxx
IFCO/Pastors For Peace (National Caravan Coordination)
418 West 145th Street, 3-FL., New York, NY 10031
Tel. 212-926-5757
E-mail: This email address is being protected from spambots. You need JavaScript enabled to view it.
Website: www.ifconews.org
June 30, 2012
Friendshipment Upcoming Events
There are three major Seattle/Cuba Friendship Committee events in the next several days. Please join us for
1) Packing Party: Saturday June 30 from noon to 6pm at El Centro de la Raza, 2524 16th Avenue S, Seattle (Beacon Hill). We will be packing, labeling, and manifesting the material aid (lots of tools and construction supplies!) for the Pastors for Peace Friendshipment Caravan to Cuba. Look for us in the hallway near the dining room on the ground floor.
2) Border Crossing: Join us on the Friendshipment bus for the trip to Peace Arch Park at the Canadian border. Come to the Warner house, 8923 2nd Ave NE, Seattle, phone 206-523-1720, Sunday July 1 at 9am. The bus will pick us up there. If you plan to come, give me a call at the above phone number and let me know so I can give you a call if I learn that the pickup time has been changed. There will be a potluck picnic at noon at the border with the Canadians, but what is really important is to have a good crowd there to support the right of the Canadians to bring aid to Cuba across the US border. Last year US officials tried to stop the aid, but an emergency media campaign, legal challenge, and extended demonstrations on both sides of the border forced them to allow it through so it could be loaded on the bus.
3) Send-off potluck in the dining room at El Centro de la Raza, Monday July 2 at 6pm. We will probably start loading our aid onto the Friendshipment bus around 5pm. There will be good music (Irthlingz, members of Sin Fronteras and of the Seattle Peace Chorus, and more) as well as good food. We will remember three good friends of Cuba who died in the last couple of years (Tom Warner, Roberto Maestas, and Reverend Lucius Walker). We will hear from Tamara Hansen, a young leader in the Cuba Solidarity movement in Canada. Tamara is< a high school teacher in Vancouver BC and a researcher and writer on Cuba who has travelled to Cuba many times.
Hope to see you at some or all of these events!
In solidarity,
Judy Zeh, Secretary, Seattle/Cuba Friendship Committee (a Task Force of the Church Council of Greater Seattle)
July 1, 2012: Border Crossing at Blaine Peace Arch Park
On July 1, the Seattle-Cuba Friendship Committee went north to Peace Arch Park at the U.S.-Canadian border to welcome Canadians and their material aid going on the Friendshipment caravan to Cuba. There was a good turnout of both Americans and Canadians but the U.S. Customs Service decided not to let all of the Canadian aid pass through the border. The U.S. Government apparently thinks baseball mitts, basketballs, and volleyballs are some sort of threat since those were the items they refused to let through. Maybe they are right, since Cuban sports teams are very good!
In response the Canadian caravanistas occupied the border overnight while those on the U.S. side returned to Seattle to repair a bus malfunction so the bus could go on the caravan. The Seattle-Cuba Friendship Committee contacted Congressman Jim McDermott, and Senators Patty Murray and Maria Cantwell to ask for their assistance in getting the aid through.
The Canadians pitched tents Sunday night (July 1) to occupy the border, and by Monday morning the crowd was larger than it had been on Sunday and included lots of Canadian media. American activists returned and joined them. They chanted across the highway to each other:
Canadians: "The US stopped our aid to Cuba!"
Americans: "Shame, shame, shame!"
Canadians: "Cuba si!"
Americans: "Bloqueo no!"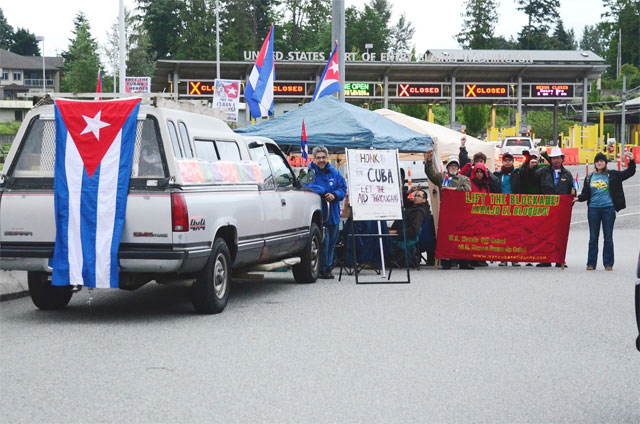 At that point the U.S. Customs Service decided they had better let all the aid (including the baseball mitts and soccer balls they had been objecting to) through. Sometimes the good guys win.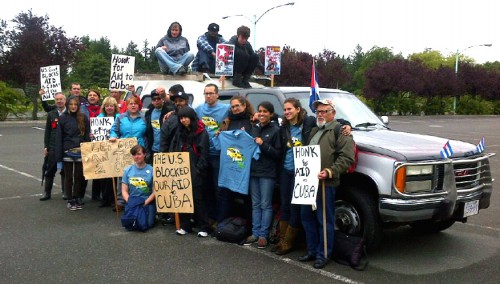 July 2, 2012: Seattle Friendshipment Sendoff
The Seattle-Cuba Friendship Committee will hold its 2012 Friendshipment Caravan Sendoff on July 2, 2012.
Please join us!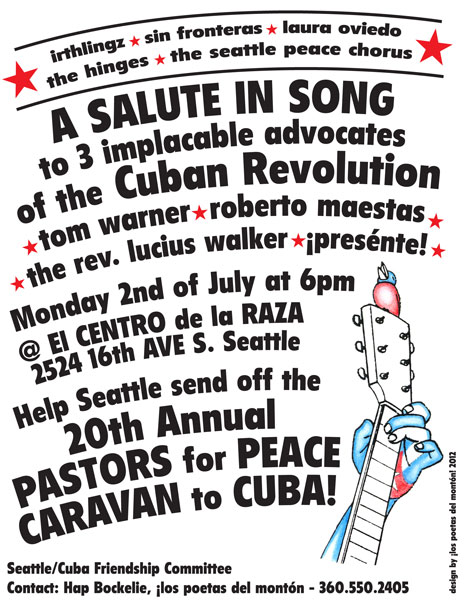 Friendshipment 23 successfuly challenges U.S. travel ban of Cuba
US border authorities demanded the caravanistas provide extensive information about their travel to Cuba, but in a united front, caravanistas refused to comply. "This kind of tactic of forcing people who travel to Cuba to "name names" is pure McCartheyism," said Lisa Valenti, who has participated in all 23 caravans.
"The US government subjects no other country in the world to such draconian travel restrictions. Why? What is the threat of a small island neighbor 90 miles away that offers free health care to the world?" added IFCO Co-Director Gail Walker.
"I'm a Vietnam Vet. I fought for this country. How can the US government tell me not to go to Cuba?" said Bill Hill, a veteran driver of the caravan.
Caravan members returned to the US after delivering nearly 100 tons of precious aid to Cuba and were victorious in getting US border authorities to return six computers retained at their border crossing on the 19th.
In Cuba the group met with Cuban faith, arts and community leaders throughout the island and visited hospitals and other institutions affected by the US blockade. Members also met with Elian Gonzalez and his father, who made a special appeal to free the Five Cubans imprisoned in the US for their anti-terrorist activities.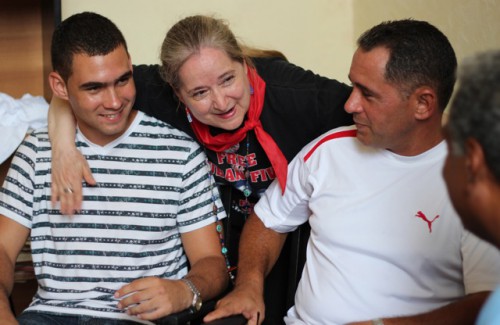 July 31, 2012: Friendshipment Caravan Returns to U.S.
IFCO Co-Director Father Luis Barrios declared the group's continued solidarity with Cuba, "We will not rest until the Cuban Five are free and with their families in Cuba and until the immoral, genocidal US blockade is ended, once and for all."
The Pastors for Peace Friendshipment Caravan is a project of the Interreligious Foundation for Community Organization (IFCO), which has been working for racial, social, and economic justice since 1967.
For more information contact Seattle/Cuba Friendship Committee: This email address is being protected from spambots. You need JavaScript enabled to view it.