February 22, 2018: IFCO/Pastors for Peace 29th Friendshipment Caravan to Cuba
Come with us to Cuba this Summer!!
Since 1992 IFCO/Pastors for Peace has organized Friendshipment Caravans to Cuba delivering humanitarian aid from the people of US to the people of Cuba and traveling to the island without requesting U.S. government permission. We have engaged in this act of civil disobedience to express our opposition to the restrictions placed on US travelers to Cuba. Together, we can reverse those unjust travel restrictions!!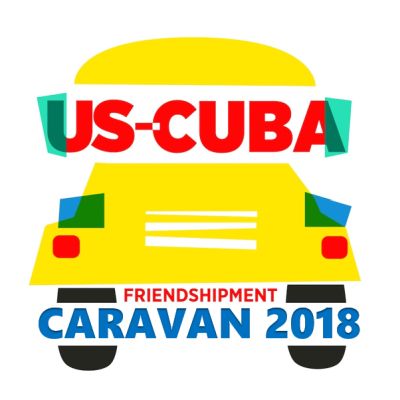 Caravan Dates
June 22-July 1 Caravan educational routes and events throughout the U.S.
July 16-18 Participant Orientation in Toronto, Canada
July 19 Fly to Santiago de Cuba
July 19 to July 29 Program in Santiago and Guantanamo provinces
July 30 Fly back to Toronto
July 31 Return to US
Participation in a Caravan route is encouraged but optional.
The orientation in Toronto is mandatory.
Cost of program - US$1650 (Round trip travel to Toronto from U.S. not included)
Program in Cuba
This year we will travel to Eastern Cuba visiting the provinces of Santiago and Guantanamo. We will learn about the impact of the illegal US Naval Base at Guantanamo Bay. We will also witness how Cuba has recovered from the devastation of Hurricane Matthew in October 2016 and learn how Cuba prepares in advance for hurricanes.
We will travel in the footsteps of some revolutionary heros, visiting the mountainous rural area known as the Second Front during the revolutionary war, as well as the final resting place of Fidel Castro in Santiago. Our visit will include participation in the July 26th celebration of the 65th anniversary of the attack on the Moncada Barracks that Cubans celebrate as the very beginning of their revolution.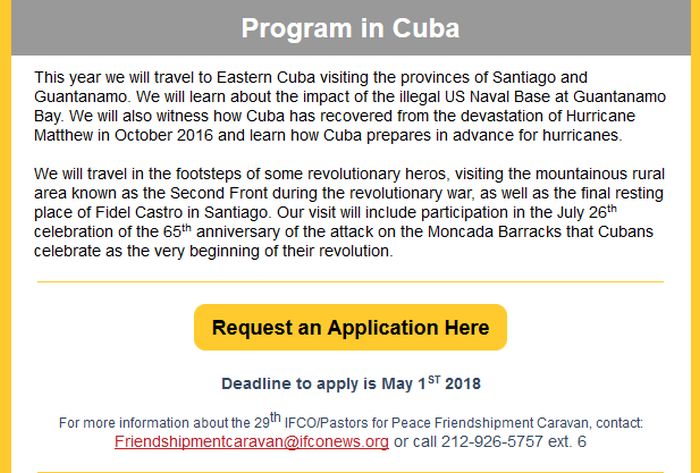 Request an Application Here:
Deadline to apply is May 1, 2018<
For more information about the 29th IFCO/Pastors for Peace Friendshipment Caravan, contact: or call 212-926-5757 ext. 6
Join us for a life-changing experience in Cuba this Summer!
IFCO | 212-926-5757 | This email address is being protected from spambots. You need JavaScript enabled to view it.. | www.ifconews.org 418 West 145th Street, New York, NY 10031
Seattle sponsor is Seattle/Cuba Friendship Committee: This email address is being protected from spambots. You need JavaScript enabled to view it.
June 22, 2018: Dare to Dream movie
The Seattle/Cuba Friendship Committee sponsored a showing of the film Dare to Dream at the Washington State Labor council offices. This inspirational 30-minute movie that tells the story of the largest medical school in the world, the Latin American School of Medicine (ELAM) in Havana, Cuba through the eyes of US students who received full scholarships from the Cuban government with the commitment to practice medicine in under-served communities.
The film was accompanied by informational talks by Seattle/Cuba Friendship Committee Secretary John Waller, Committee member Stephanie Sarantos, and Nyema Clark, who traveled to Cuba last year with a delegation from Seattle's New Hope Baptist Church.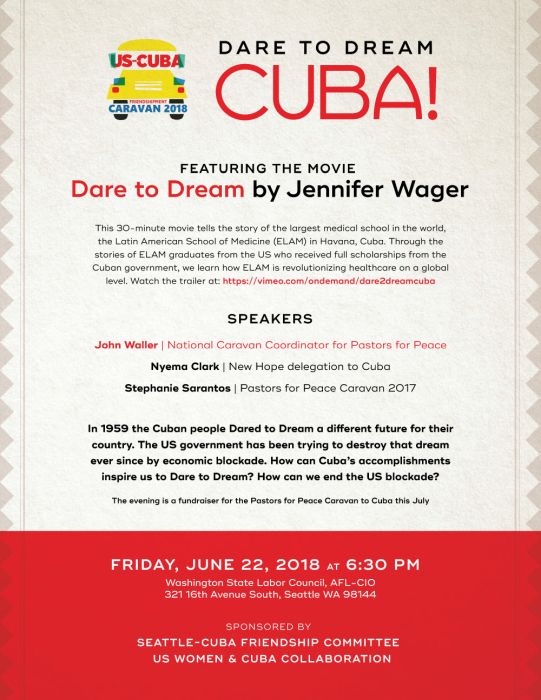 July 7, 2018: July caravan is postponed
IFCO/Pastors for Peace regretfully announced that the July Friendshipment caravan was postponed until November, 2018.
November 2018: IFCO/Pastors for Peace 29th Friendshipment Caravan did finally go to Cuba during Novevember.
They returned safely to the United States on November, 27, 2018.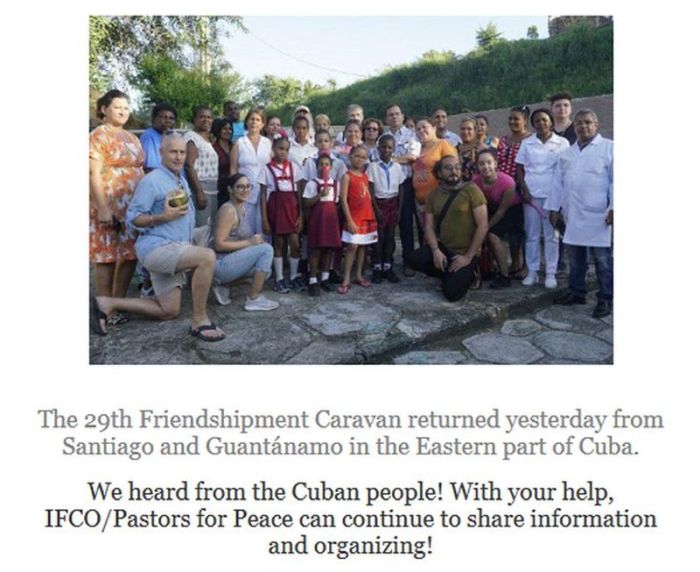 For more information contact Seattle/Cuba Friendship Committee: This email address is being protected from spambots. You need JavaScript enabled to view it.