2021 was a very busy year for the Seattle/Cuba Friendship Committee
January 2021: Congressional Advocacy
On January 12, the outgoing Trump administration put Cuba back on the list of state sponsors of terror. The outset of the Biden-Harris administration offers an opportunity to reverse this cynical move and return to the Obama-era rapprochement between Washington and Havana. The Seattle/Cuba Friendship Committee has been requesting meetings with local Congressional representatives who might be supportive of the Saving Lives Campaign and, more broadly, a re-set of national Cuba policy.
January 2021: Saving Lives Campaign
Begun in 2020 and continuing this year, the Saving Lives Campaign is a joint initiative of the U.S. National Network on Cuba and the Canadian Network on Cuba, intended to to facilitate collaboration between the U.S., Cuba and Canada in fighting the COVID-19 virus. Our ongoing support for this campaign continues, integrated with the ACERE initiative and our Congressional advocacy work.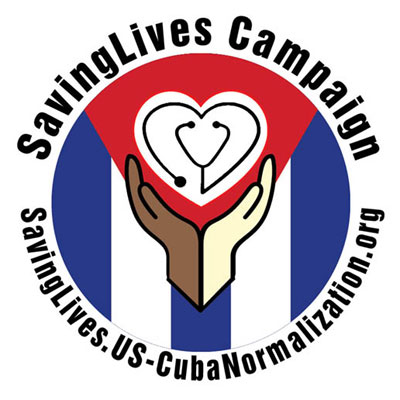 Jan. 16, 2021: Webinar on policing in Cuba
As part of the week-long 2021 Martin Luther King Day celebration, the Seattle/Cuba Friendship Committee along with the Seattle MLK Coalition co-sponsored this workshop which looked at how policing in Cuba looked like before and after the Cuban revolution. The presentation and discussion were framed on the question of what is the connection between the Cuban revolution and policing and the current movement in the US to defund/dismantle policing, and what is possible now and in the future given the example of Cuba. The webinar was posted on YouTube and is available to watch, free.
Watch: Policing in Cuba webinar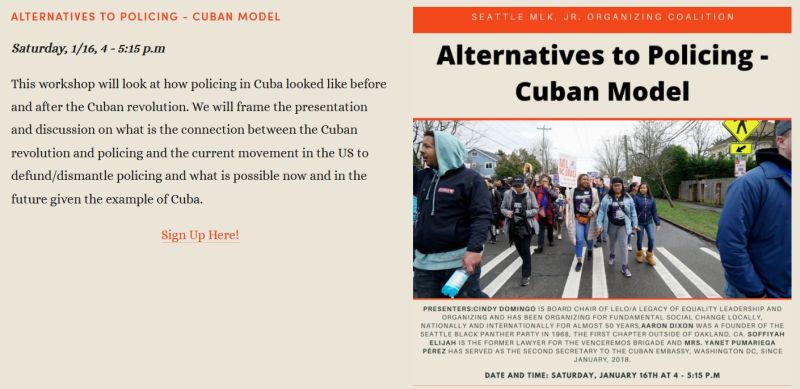 January 19, 2021: Seattle City Council resolution in favor of medical collaboration with Cuba
As the result of advocacy by the Seattle/Cuba Friendship Committee led by member Cindy Domingo, Council member Teresa Mosquera tabled a resolution which the the Seattle City Council debated and then passed a resolution with the following provisions:
* Section 1. Supports the Saving Lives Campaign by encouraging local medical, health care, scientific, academic, and pharmaceutical institutions to actively explore collaboration with their Cuban counterparts in knowledge transfer and joint collaboration between Seattle-King County and Cuban institutions in public health prevention methods, methods for preventing infection of health workers, innovation treatments, and development of new treatments, vaccines, and protocols.
* Section 2. The Seattle City Council appeals to the Washington State Legislature and the Governor to actively pursue such exchanges, knowledge transfers, and collaboration, including but not limited to efforts to further joint development of drugs and treatment protocols in pursuit of the COVID-19 virus and communicable diseases.
* Section 3. The Seattle City Council calls on our U.S. Congress and the future Executive Administration of President-Elect Joe Biden and Vice-President-Elect Kamala Harris to restore diplomatic relations with Cuba, end the decades-long economic blockade, and engage in all mutually beneficial areas of human endeavor.
Next steps include approaching other groups for endorsement, including King County Health Board and the University of Washington Student Physicians for a National Health Program group.)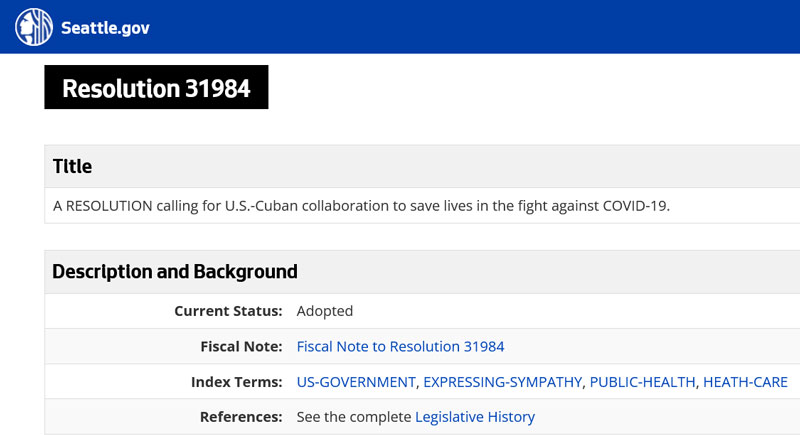 Jan 31, 2021: Last-Sunday-of-the-month Rally and Car Caravan
For several months now in Miami, on the last Sunday of the month, there have been Car Caravans of Cuban Americans and their allies calling for an end to the 60 year old US economic blockade of Cuba, and to build bridges of love between the US and the Cuban people. On Sunday Jan 31, the Seattle/Cuba Friendship Committee, in alliance with local Cuban Americans, is organizing a picket and car caravan in support of the Miami protest, to be held in Seattle's Ballard neighborhood. First will be a street picket/rally near the Ballard Farmer's market, followed by a car caravan.
We hope to make this a monthly event through the year.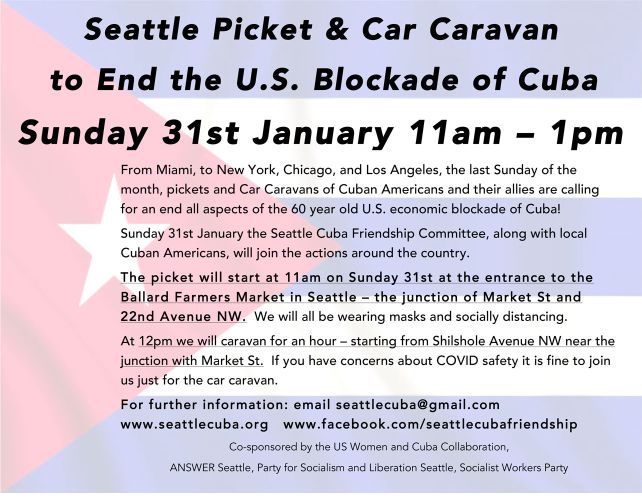 February, 2021: ACERE initiative
The Alliance for Cuba Engagement and Respect (ACERE) is a national grassroots coalition seeking normalization of US-Cuba ties and opposing intervention in Cuban affairs. This year, ACERE has launched an initiative to lobby President Biden to reverse the Trump Administration's cruel policies against the Cuban people, and renew mutually productive dialogue with the Cuban government. To facilitate this, ACERE is encouraging supporters to contact their members of Congress (both Senators and Representatives) and request them to sign on to a letter urging the President to use his executive power to make positive changes in Cuba policy. The Seattle/Cuba Friendship Committee is actively participating in this project. Please join us!
Feb 28, 2021: Last-Sunday-of-the-month Rally and Car Caravan
Our February picket and car caravan in support of the Miami protest was held in Rainier Valley, South Seattle.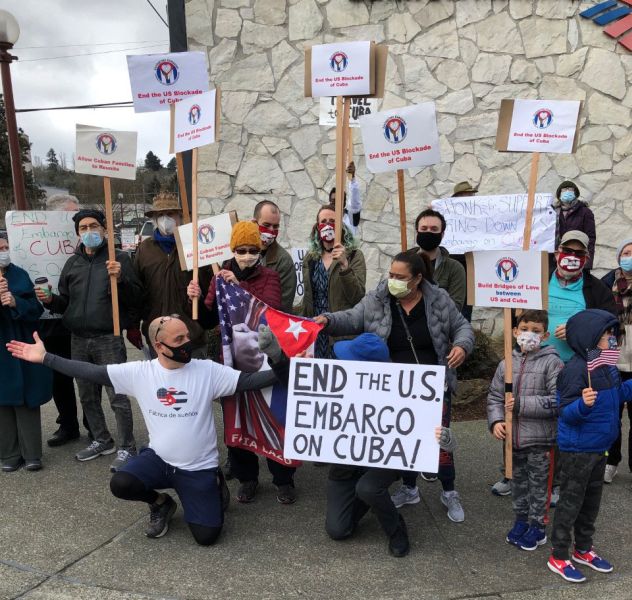 March 14, 2021: Feminist Solidarity, Advancement of Cuban Women
FEMINIST SOLIDARITY! Celebrating International Women's Day, and the Advancement of Cuban Women
Moderated by our own Cindy Domingo of the Seattle/Cuba Friendship Committee and US/Cuban Women Alliance.
Sunday, March 14, 2021
2:00 pm PST / 5:00 pm EST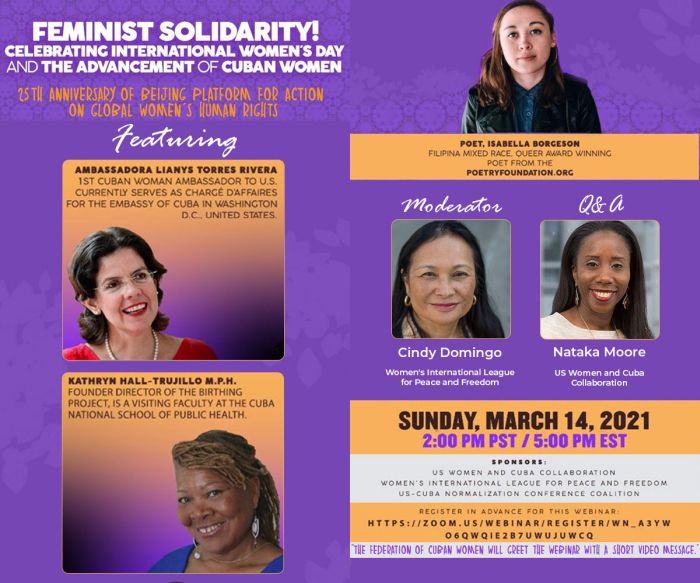 March 19 to 28, 2021: Free Facebook showing of 2019 film 'Havana, from on High'
The Northwest Film Forum (NWFF) and Design in Public (DiP) teamed up to present this Cuban film on Facebook. The chronic shortage of housing in Central Havana has pushed the city upwards, where life spills out onto the rooftops. Resilient and remarkable, these rooftop dwellers have a privileged point of view on a society in the process of major transformation.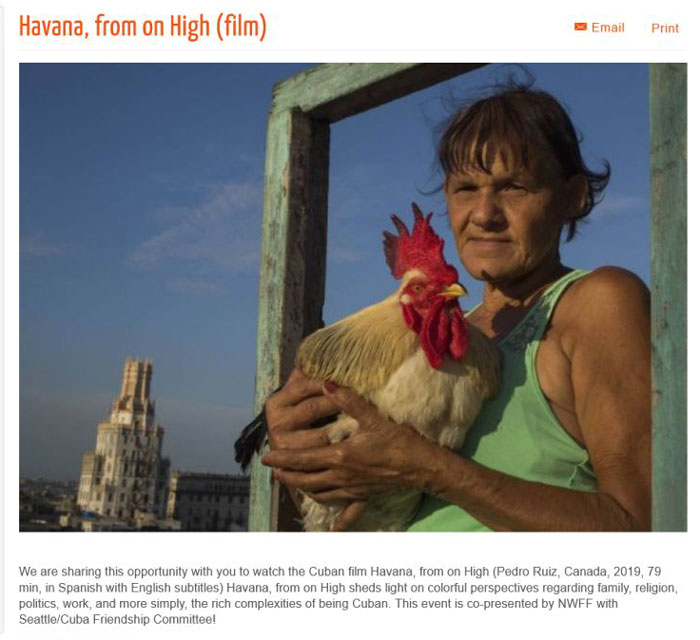 March 28, 2021: Last-Sunday-of-the-month Rally and Car Caravan
This month's Car-caravan-and-picket was held in West Seattle.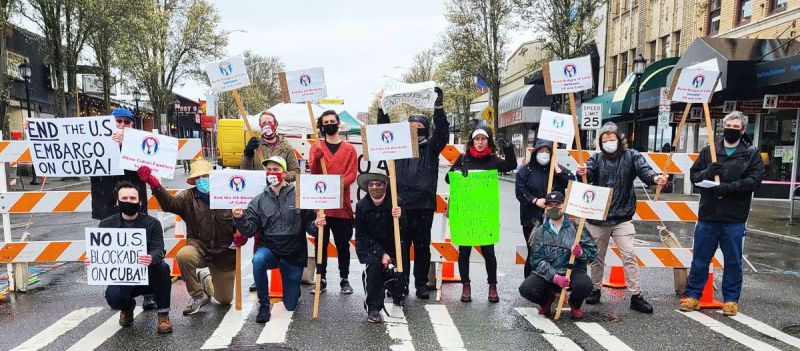 April 22, 2021: Confronting Covid-19 Cuba's Approach to Healthcare to All
Cuba spends only 4% of the dollars per patient as the US health system. Yet the Covid-19 case rate is 50+ times higher in the U.S. than in Cuba, and the death rate is 85+ times higher. What lessons can we in the U.S. learn from Cuba's remarkable system of health care for all?
Join Drs. Helen Yaffe and Valia Rodriguez, producers of the film "Cuba and COVID-19," for a transnational conversation on how Cuba is defeating this deadly coronavirus.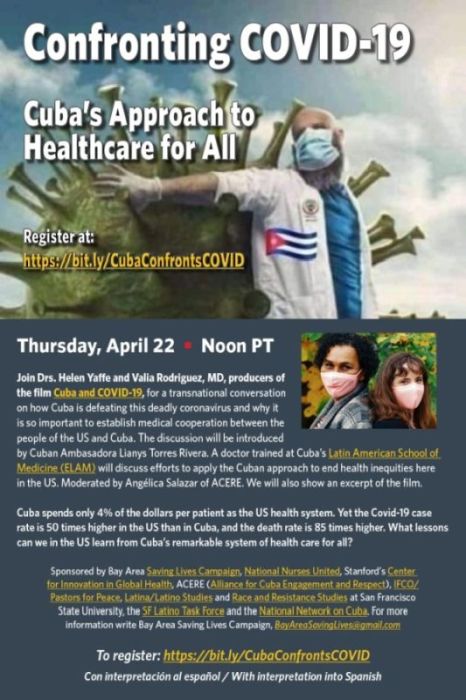 April 25, 2021: Last-Sunday-of-the-month Rally and Car Caravan
Was held in the Lake City neighborhood, North Seattle.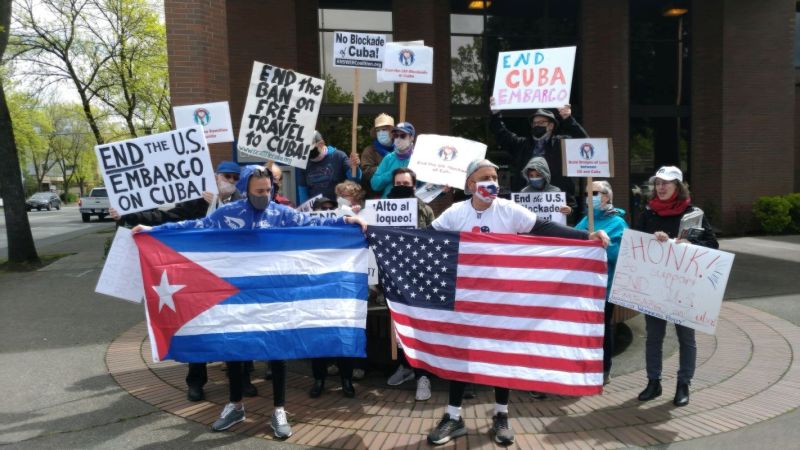 April/May 2021 NNOC (National Network on Cuba) Mayday Cuba Brigade
was CANCELLED due to the pandemic.
May 8, 2021: Syringes for Cuba Campign
The Seattle/Cuba Friendship Committee joined Global Health Partners in promoting the Syringes for Cuba Campaign, to send syringes to Cuba. Cuba has created three home-grown COVID-19 vaccines and produced enough vaccine to innoculate the entire population, but is short 20 million syringes to complete the national vaccination campaign. Global Health Partners received a U.S. Commerce Department license to send syringes directly to Cuba, and shipped 6 millions syringes and tons of PPE directly to Cuba.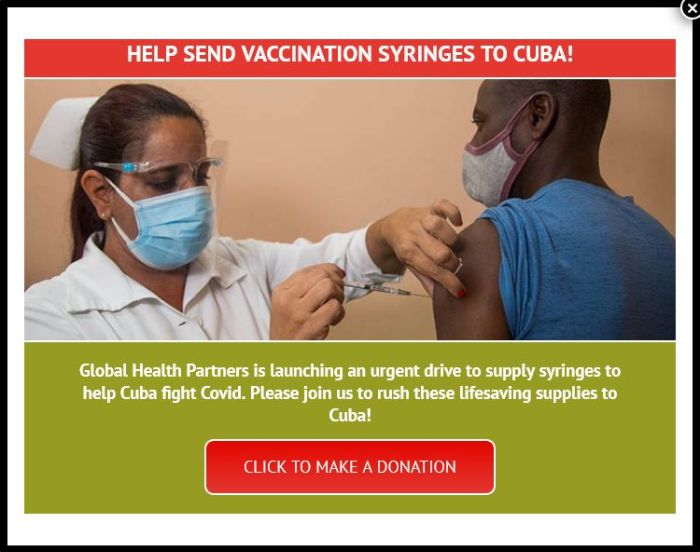 May 30, 2021: Last-Sunday-of-the-month Rally and Car Caravan
In Seattle's White Center neighborhood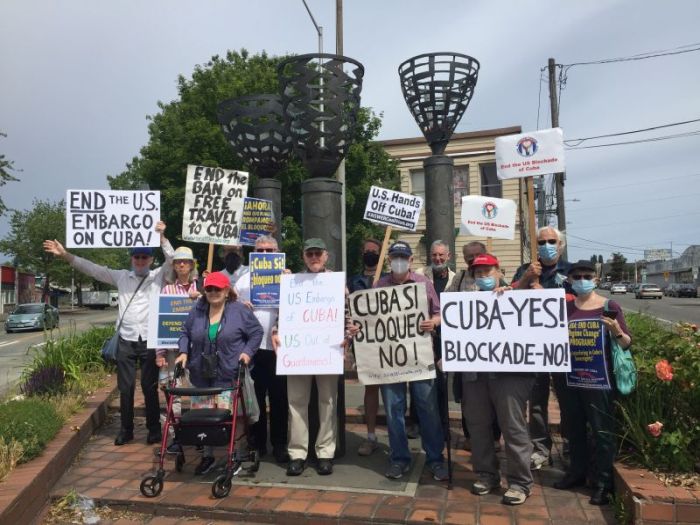 June 13, 2021: National Network on Cuba Spring-Summer Meeting
Will be virtual (Zoom).
June 17 to June 23, 2021: Week of Action Against the Blockade
Solidarity with the June 23 UN General Assembly vote. The week of events lead up to June 23, when the United Nations General Assembly (UNGA) will vote on Cuba's annual resolution on the necessity to end the United States' economic, commercial, and financial embargo against the island.

June 20, 2021: Last-Sunday-of-the-month Rally and Car Caravan
Was held in Seattle's Ballard neighborhood, our part in the Week of Action Against the Blockade.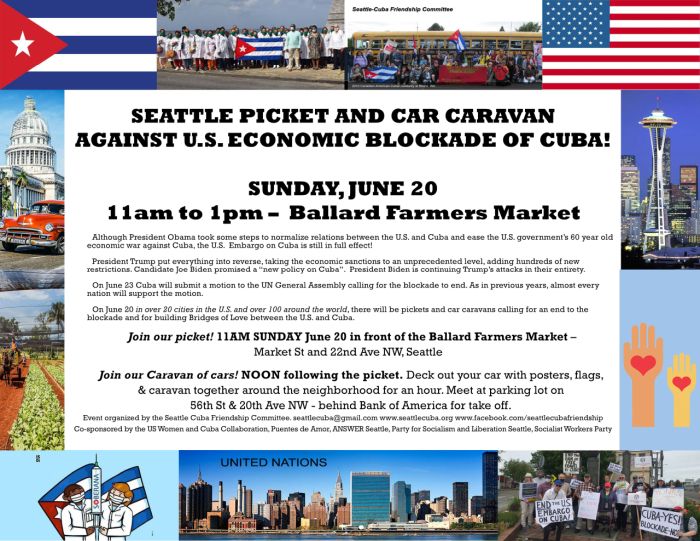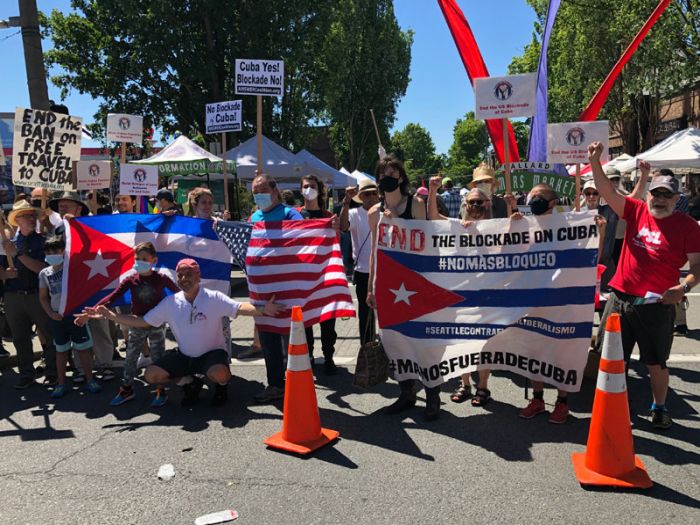 June 23, 2021: U.N. General Assembly vote
The United Nations General Assembly voted on the Cuba-sponsored resolution against the United States embargo & blockade against Cuba. For the 29th year, the Assembly voted overwhelmingly to condemn the Cold War-era American embargo. 184 nations voted in favor of ending the embargo, three nations abstained, and two voted no: the United States and Israel. Cuba said earlier this month the decades-old U.S. trade embargo cost it a record total of more than US$9 billion over the last financial year, hurting its ability to tackle the coronavirus pandemic.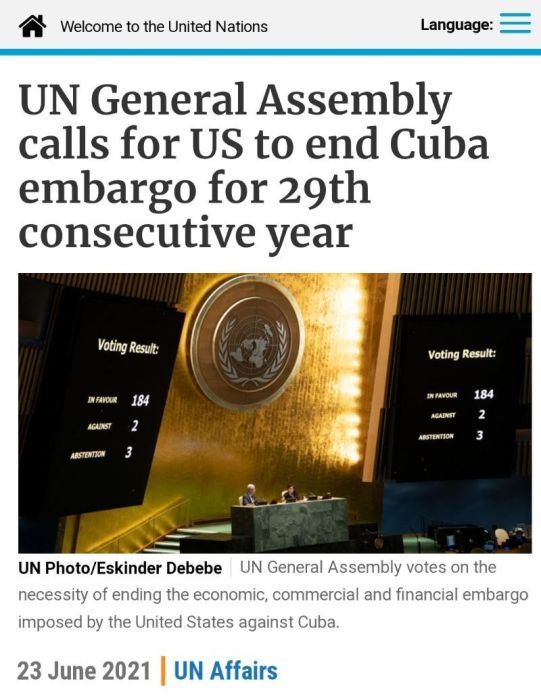 July 25, 2021: Last-Sunday-of-the-month Rally and Car Caravan
This month's caravan was held in front of the Beacon Hill Light Rail stop at the junction of Beacon Ave. and S. Lander St. in the Beacon Hill neighborhood.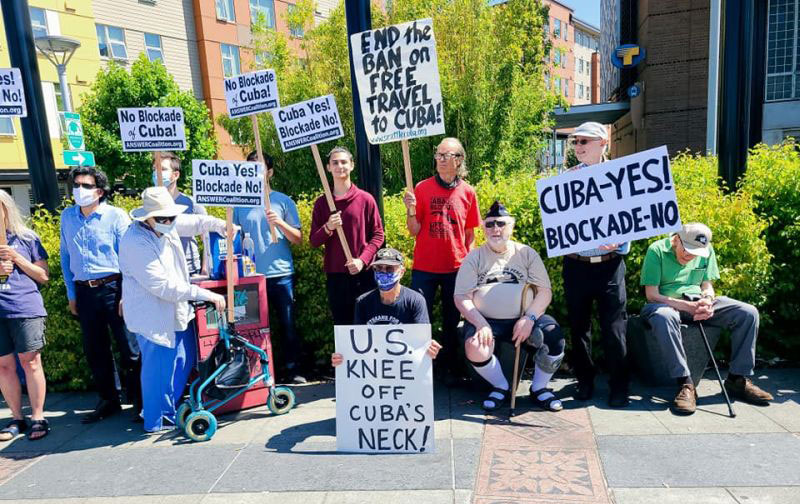 August 29, 2021: Last-Sunday-of-the-month Rally and Car Caravan
This month's caravan activity was a picket and solidarity stroll at Greenlake Park in North Seattle.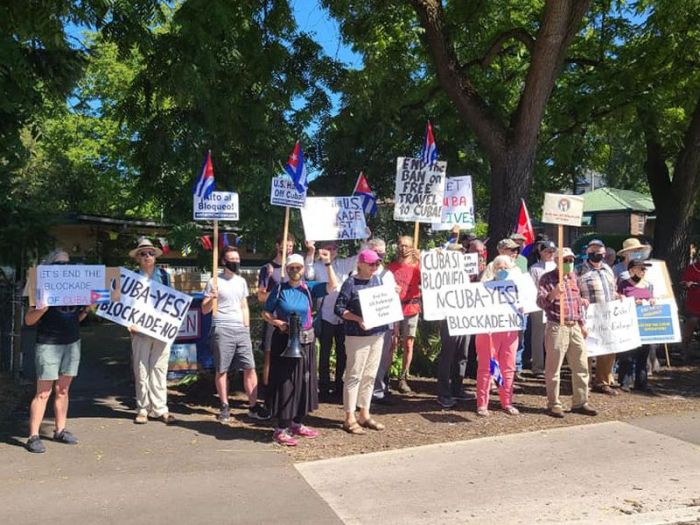 September 14, 2021: Confronting COVID and the US Blockade Webinar
A zoom presentation for Seattle and Washington State. Join us for a different point of view on Cuba and its relations with the US. Presenters included Carlos Lazo of Puentes de Amor, and John Waller, National Coordinator of the IFCO/Pastors for Peace Caravan to Cuba
There will be time for Q+A and discussion
The event is a fundraiser for IFCO/Pastors for Peace
Register Here
After registering, you will receive a confirmation email containing information about joining the meeting.
Event Cosponsored by:
US Women and Cuba Collaboration
Puentes de Amor
Party for Socialism and Liberation Seattle
Socialist Workers Party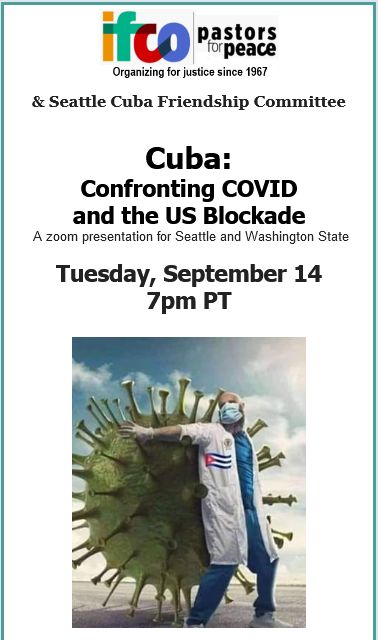 September 26, 2021: Last-Sunday-of-the-month Rally and Walking Picket
This month, we are sponsoring a rally & walking picket in Rainier Beach. Meet at Beer Sheva Park, intersection of Seward Park Ave S. and S. Henderson St. (across from Rainier Beach High School).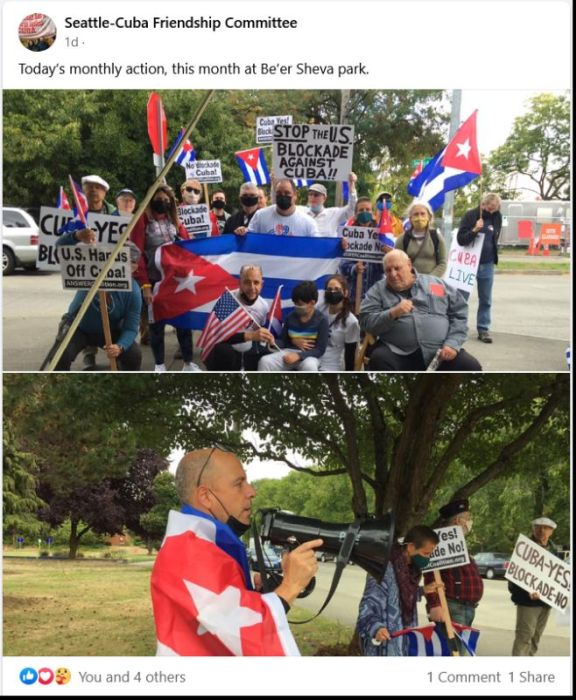 October 31, 2021: Last-Sunday-of-the-month Rally and Walking Picket
This month's Rally and Walking Picket started at Ballard Farmer's Market in Seattle's Ballard neighborhood.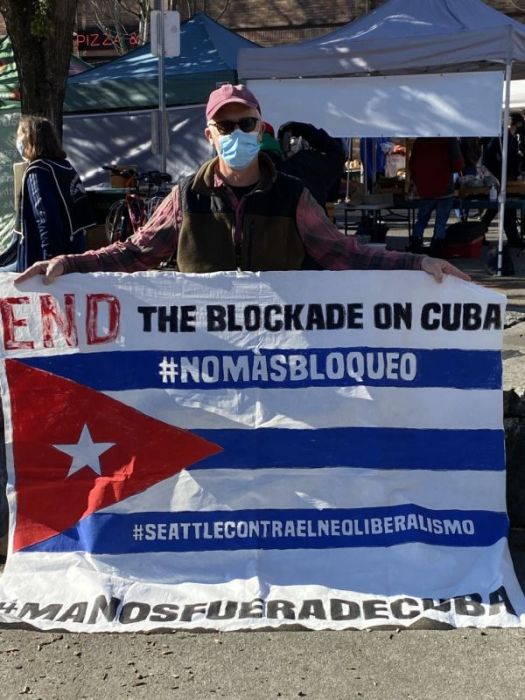 November 16, 2021: IFCO Pastors for Peace 31st Friendshipment Caravan to Cuba
We hope to send a Seattle delegation on this exciting solidarity caravan. We're offering a partial scholarship to qualified applicants.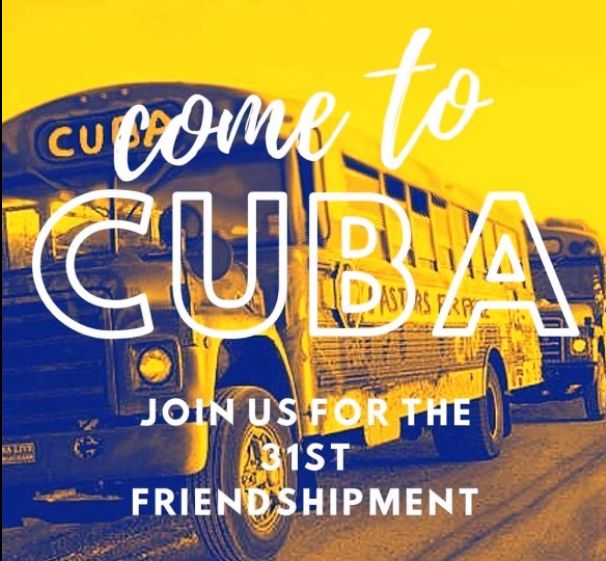 November 2021: Sorry, no Seattle Last-Sunday-of-the-month Rally and Car Caravan this month.
December 9, 2021: IFCO Cuba Caravan Report Back
Join us on December 9 for an online report back from our recently returned delegates who went on the 31st IFCO Friendshipment to Cuba.
December 9 IFCO Caravan Report Back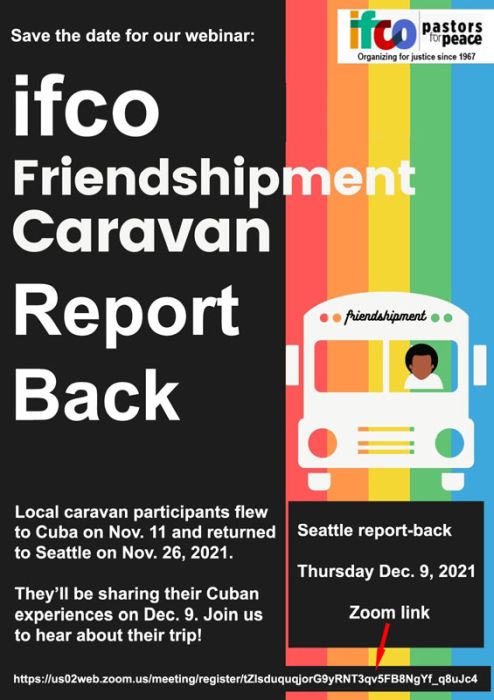 December 23, 2021: Seattle holiday vigil in support of Cuba
Our last rally of the year was held on a cold Thursday evening in Seattle's Central District.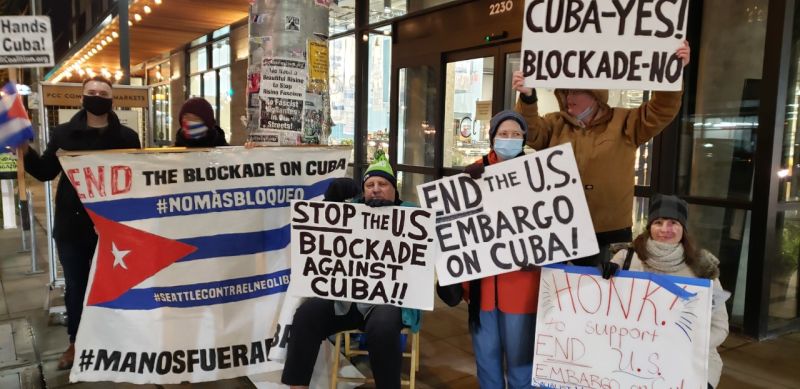 Seattle/Cuba Friendship Committee Meetings
We usually meet (virtually, via Zoom) at least once per month. Please contact the Seattle/Cuba Friendship Committee for an invitation, or for more information about our work:
E-mail: This email address is being protected from spambots. You need JavaScript enabled to view it.
Website: www.seattlecuba.org
Facebook: www.facebook.com/seattlecubafriendship/