May 24, 2011: Pastors for Peace 22nd Friendshipment Caravan to Cuba Announcement
Pastors for Peace invites you to participate in the 2011 Friendshipment Caravan - See Cuba for Yourself and Challenge the US Blockade! July 2 through August 1, 2011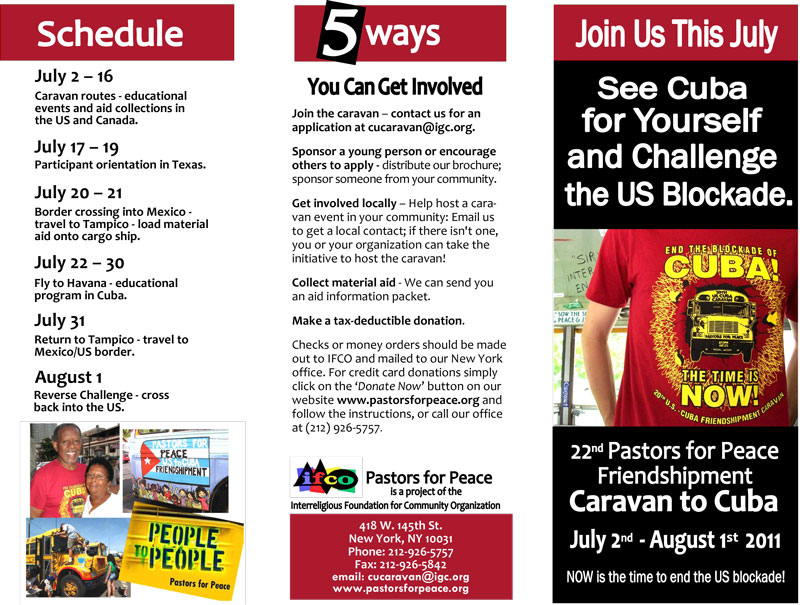 This year, through an exciting educational and cultural program, IFCO/Pastors for Peace will celebrate and honor the achievements of young people in Cuba, as well as learn about their daily lives and experiences as we visit organic gardens, neighborhood projects, health centers and schools.

We will also be commemorating and lifting up the life of Rev Lucius Walker, Jr., the founding director of IFCO/Pastors for Peace, who for 20 years gave prophetic and visionary leadership to our caravans to Cuba in defiance of the US blockade, and who died peacefully in September 2010.

In July 2011 our caravan will travel in school buses, trucks and cars along 12 different routes, visiting 130 US and Canadian cities. At every stop we will educate people about the blockade while collecting construction supplies and tools, medical supplies and equipment, educational and cultural supplies, to be donated to our sisters and brothers in Cuba. You can join us as we pass through your community, or you can join us when we reach the border in McAllen, TX on July 17th.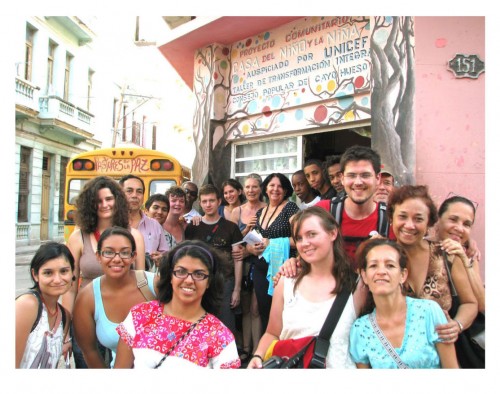 From Texas we will travel to Cuba via Mexico, without asking for or accepting a US government license, as a disciplined act of civil disobedience against the blockade and travel ban, and as ambassadors for a 'people-to-people' foreign policy based in mutual respect. When we return to the US, we will proudly declare our travel to Cuba and our opposition to the immoral blockade.

Join us on a voyage of friendship and discovery!

Cuba is well known for its rich culture and focus on human development - all which comes from investment in human beings. We will meet the young scientists, doctors, teachers, social workers, artists, musicians and community activists who are increasingly at the forefront of developing their own society, and participating in internationalist missions to assist the peoples of other countries.
WAYS YOU CAN GET INVOLVED:
* Join the caravan as a caravanista - contact us for an application form. Email
* Sponsor a young person or encourage others to apply - distribute our brochure; sponsor someone from your community.
* Get involved locally - help host a caravan event in Seattle. Contact Tom Warner at 206-523-1720.
* Collect material aid - we can send you the aid information packet.
* Make a financial donation. Donations are tax-deductible.
CARAVAN SCHEDULE
JULY 2-16: Caravan routes - educational events and aid collection - US and Canada.
JULY 17-19: Participant orientation in McAllen, Texas.
JULY 20-21: Border crossing into Mexico - travel to Tampico - load material aid onto cargo ship.
JULY 22-30: Fly to Havana - educational program in Cuba.
JULY 31: Return to Tampico - travel to Mexico/US border.
AUG 1: Reverse Challenge; cross back into the US and return to Seattle by about August 4.
IFCO/Pastors For Peace (National Caravan Coordination)
418 West 145th Street, 3-FL.
N ew York NY 10031
Tel. 212-926-5757
Fax 212-926-5842
E-mail: This email address is being protected from spambots. You need JavaScript enabled to view it.
Website: www.ifconews.org
June 23, 2011: Seattle-Cuba Caravan 22 Welcome
Dear Cuba supporter,
We are now organizing for the Pastors for Peace 22nd Friendshipment Caravan to Cuba. It's coming to Seattle in July. Can you help us?
Although President Obama has moved to make it somewhat easier for college students, churches, and folks with families in Cuba to go there, there are still restrictions that make it difficult to send aid or to travel to Cuba. A really successful Friendshipment this year may convince a reluctant Congress and President that there is strong grass-roots sentiment to end the blockade and travel ban. How you can help:
Travel to Cuba on the Caravan. The US government doesn't want you to go to Cuba. We say go and see for yourself. This year the Caravan leaves Seattle July 5 and returns to the US August 1. For more information about the Caravan or to request an application form, go to www.ifconews.org/CubaCaravan (or email .
Donate construction supplies and tools (still needed for hurricane reconstruction), medical supplies and equipment, and/or educational and cultural supplies. Over the past years, we in Seattle have sent tons of supplies, and with your help we can do so again.
Attend the Packing Party June 30, 4pm - 9pm at El Centro de la Raza, 2524 16th Ave South, Seattle (Beacon Hill). We will be packing and labeling the Seattle donations to be sent to Cuba.
Celebrate the border crossing July 3 at Peace Arch Park, Blaine. Canadians will be crossing into the US carrying aid to go on the Caravan. You are invited to ride up to the border with us, where we will welcome the Canadians across the border and have a picnic and rally, then load their donations on the schoolbus we'll ride from Seattle to the border and back. This is an all-day event. Call us for details.
Come to the send-off potluck July 5, 6pm in the cafeteria at El Centro de la Raza, 2524 16th Ave South, Seattle (Beacon Hill). We do this every year for the Friendshipment Caravans, and it is always a festive and meaningful event.
Make a financial contribution to help us send the donated supplies on the Caravan. The high price of diesel fuel right now makes this particularly important. Use the handy donation slip included in this mailing!
With your help, we here in Seattle can again support the Friendshipment Caravan as we have in the past. The need this year is particularly great. Thank you very much!
In solidarity,
Tom Warner - Tel. xxx-xxx-xxxx 
June 23, 2011: Caravan Send-off Invitation
Please come to the 2011 Friendshipment Caravan Send-off!
Join us at El Centro de la Raza on Seattle's Beacon Hill for a potluck dinner, speeches, music, and last-minute packing of donated aid which we will load onto a Cuba-bound schoolbus.
Date: July 5, 2011
Time: 6:00pm
Location: El Centro de la Raza, 2524 16th Ave South, Seattle, WA
Food: potluck
Entertainment: songs by the Raging Grannies
Program: (in addition to Caravan speaker): remarks from past and current Caravanistas
Directions
From I-5, take West Seattle Bridge/Columbian Way exit,
Exit via the Columbian Way ramp,
Turn onto Columbian Way South,
Turn left onto South Spokane St,
Turn left onto Beacon Ave South,
Turn right onto S. Lander Street,
Turn left onto 16th Ave South. You're there!
July 3, 2011: Canadian Border Crossing
On Sunday July 3, Cuba-supporters from Seattle drove north to the Blaine border crossing to offer support to Canadian "blockade busters." The Canadians planned to cross into the United States carrying humanitarian aid destined for Cuba, in defiance of the US Government blockade.
American customs officers tried to stop the Canadians' aid by demanding money to guarantee that the aid (which Customs claimed was a commercial shipment) would go all the way through the U.S. and into Mexico. In response, the enthusiastic Canadian contingent chanted and waved signs demanding that the aid be released.
Meanwhile, someone contacted Pastors for Peace (parent organization of the Friendshipment Caravan) in New York; Pastors then called their attorney who found something to tell Customs that convinced them they could not stop humanitarian aid, which this was, and the Canadian donations were allowed to enter the US after several hours of delay. Whew!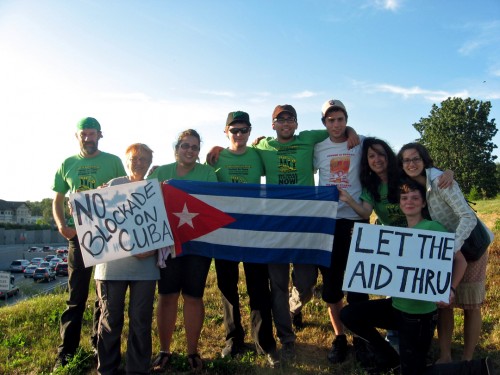 July 5, 2011: Seattle Send-off
By contrast, the 5 July sendoff at Seattle's El Centro de la Raza went very smoothly. The Raging Grannies sang, the folks going on the Caravan and others spoke, there was lots of good food, and 22 boxes and bundles of aid (mostly tools and construction supplies) were loaded onto a yellow school bus, which then headed to Olympia on the first leg of its journey towards the Mexican border enroute to Cuba.
Best of luck, 2011 Friendshipment Caravan!
August 1, 2011: Successful Caravan Return
After 10 days in Cuba, the Friendshipment Caravan successfully returned to the United States.
October 24, 2011: Seattle loses Tom Warner
Tom Warner, heart and soul of Seattle's Cuba solidarity movement for the past 49 years, has died at age 86. He passed at home on October 24, 2011, with his loving wife Judy at his side.
For 49 years he was a vocal advocate for normalization of relations between Cuba and the United States. His daughter Valentina wrote that "he told us "Don't mourn, ORGANIZE!"
2005 Streetbuzz interview: Streetbuzz Interview: Tom Warner
2011 Tom Warner sings Casey Jones: Tom Warner - Casey Jones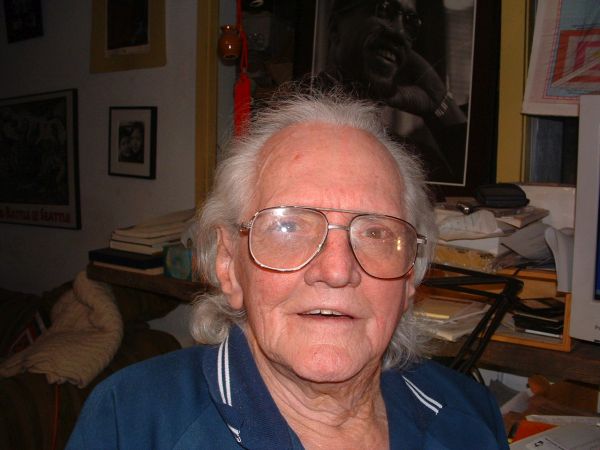 For more information contact Seattle/Cuba Friendship Committee: This email address is being protected from spambots. You need JavaScript enabled to view it.