January 14 to February 22, 2015: I will die the way I've lived. Cuban artwork at the Columbia City Gallery
The Columbia City gallery held an exhibit for artwork by Antonio Guerrero, commemorating the 16th anniversary of the imprisonment of the Cuban 5.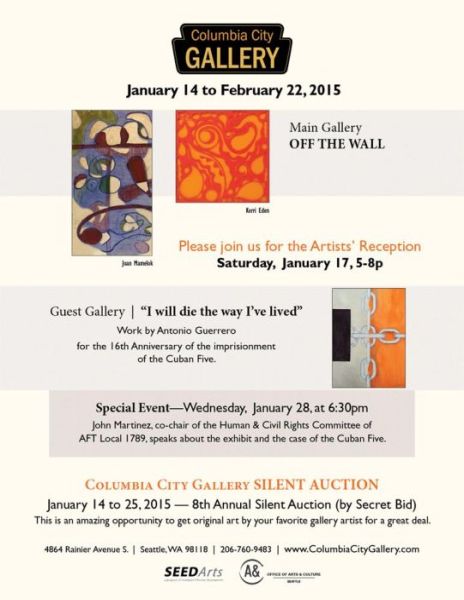 June-July, 2015: IFCO/Pastors for Peace's 26th Friendshipment Caravan to Cuba
The Seattle/Cuba Friendship Committee recently participated in IFCO/Pastors for Peace's 26th Friendshipment Caravan to Cuba.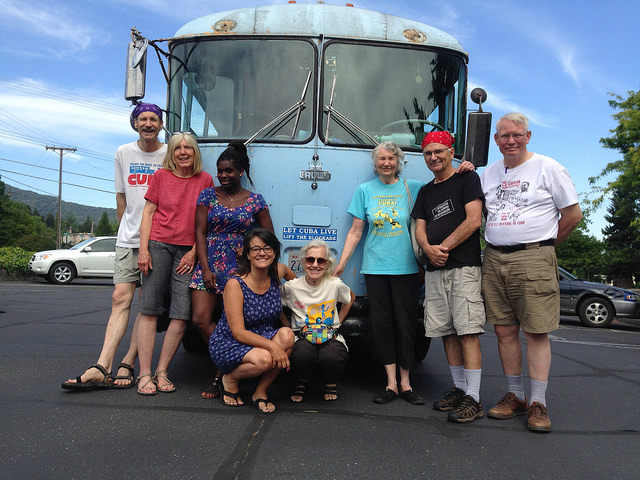 Seattle's own Judy Zeh (center) and her fellow caravanistas pose with their Friendship bus while traveling to Cuba on the recent 26th Caravan.
Judy says: "Most of the folks in the picture in front of the bus got on in Washington and Oregon. At far left is Brad (driver); at far right, Mike from Corvallis; between Brad and me Joanne, Constance, and Paula from Ashland; in black teeshirt, Bill Hackwell (our route's speaker). The photo of the other woman is not clear enough for me to tell who she is for sure, but I am guessing she is Amanda, who only joined the Caravan for a short while in northern California. The next batch of Caravanistas joined us in Santa Cruz and Fresno."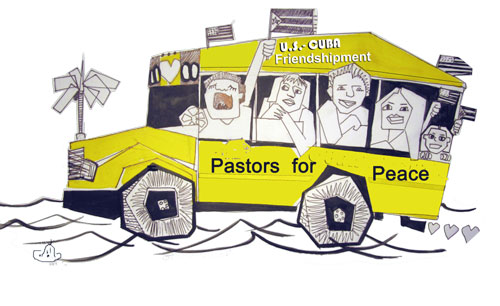 * President Barack Obama has moved to normalize diplomatic relations between the United States and Cuba, but the American blockade and travel ban have not yet been lifted. This means our work is not finished.
June 26, 2015: National Send-off of the 26th Friendshipment Caravan
Join us in Washington, DC to kick off the 26th Friendshipment Caravan to Cuba
Can't come on the caravan this year but still want a mini caravan experience?
The p4p bus is taking folks from NYC to DC and back. Seating is limited.
Email IFCO to reserve your seat:
June 27, 2015: Canadian Border Crossing Event
The Seattle/Cuba Friendship Committee is co-sponsoring a Potluck Picnic and Rally to Bring Aid to Cuba
The West Coast Friendshipment 26 Caravan to Cuba begins here as Canadians bring humanitarian aid across the border and continue south. It will stop on the way to tell people why the US should trade with, not blockade, Cuba.
Peace Arch Park - US/Canada Border
White Rock, BC / Blaine, WA
Live Music, Poetry, and Guest Speaker NINO PAGLICCIA (read more about him at the end of this message)
The Peace Arch border crossing has been the scene of several important recent victories against the US Blockade. The 2012 border crossing became an international event when US border officials repeatedly attempted to stop our humanitarian aid at the border. However, by launching an emergency media campaign, legal challenge, and extended demonstrations on both sides of the border we prevailed. The aid got across.
A strong presence at the border will ensure our aid and Caravan participants get across again this year!
Contact for carpooling to and from the border from Seattle: please contact Seattle Committee Secretary Judy Zeh.
June 29, 2015: Friendshipment Caravan Send-off
Potluck Dinner and Music to Send the Pastors for Peace Caravan Off to Cuba.
The Seattle/Cuba Friendship Committee and El Centro de la Raza will send humanitarian aid to Cuba on the Caravan. Come eat and listen! Hear from and meet people who have been to Cuba.
Potluck with poetry, music by Jim Page and others, Guest Speaker Bill Hackwell (www.billhackwell.com)
We will be sending off on the Caravan bus: Bill from Oakland; Azza, Janine, and Tamara from Vancouver BC;
Judy from Seattle; and Rick, who will be driving the bus, from Olympia.
Event time: 06:00-8:30 pm
Price: Free, though contributions to the potluck are welcome.
Location: El Centro de la Raza
2524 16th Ave S (Room 106, Salvador Allende Room), Seattle (near Beacon Hill light rail station)
206-957-4634
www.elcentrodelaraza.org
June 29-July 12, 2015: Caravan week
(participants drove different routes throughout the US.)
July 17-28, 2015: Program in Cuba
Seattle/Cuba Friendship Committee Secretary Judy Zeh in Cuba on the 26th Friendshipment Caravan.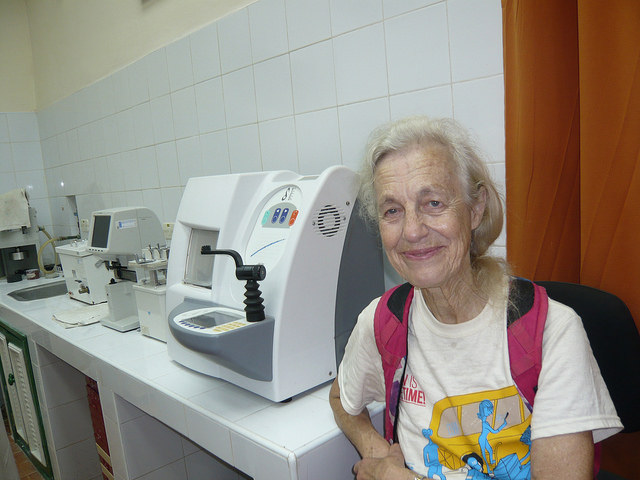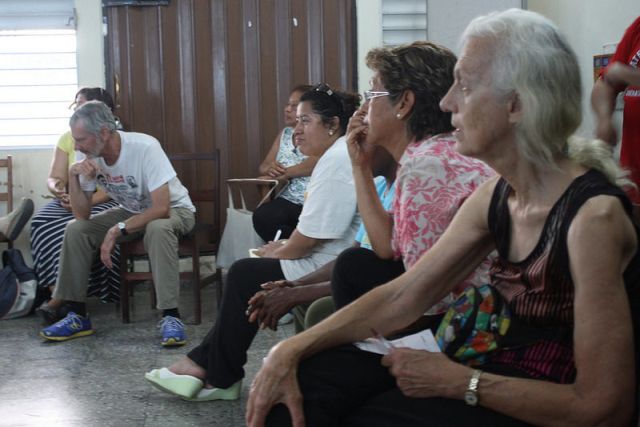 July 30, 2015: Caravanistas returned home
Just like the previous 25 caravans, Friendshipment Caravan 26 successfully challenged the US blockade of Cuba which has unfortunately continued in spite of Obama Administration moves toward normalization of relations between the two countries. Seattle/Cuba Friendship Committee and IFCO/Pastors for peace will continue to lobby for full normalization of relations between the US and Cuba, and for an end to the 53 year U.S. Government blockade.
For more information contact Seattle/Cuba Friendship Committee: This email address is being protected from spambots. You need JavaScript enabled to view it.